China responds to U.S. protectionist move; jobs data next up

Euro climbs on stronger-than-expected German industrial output
European stocks trimmed gains and U.S. equity-index futures fluctuated after China said it's retaliating to U.S. trade tariffs that kicked in Friday. The dollar and Treasuries edged lower as traders looked ahead to U.S. jobs data.
Defensive stocks including household goods and utilities were among the gainers in the Stoxx Europe 600 Index, while carmakers and miners fell, underscoring the cautious mood. Deutsche Bank AG rose on speculation oftakeover bids. Futures on the S&P 500, Dow and Nasdaq were little changed ahead of the monthly payrolls figures due later on Friday. The euro rose as a stronger-than-expected jump in German industrial production suggested the global expansion continues.
Follow our live blog as China says it is forced to retaliate on U.S. tariffs.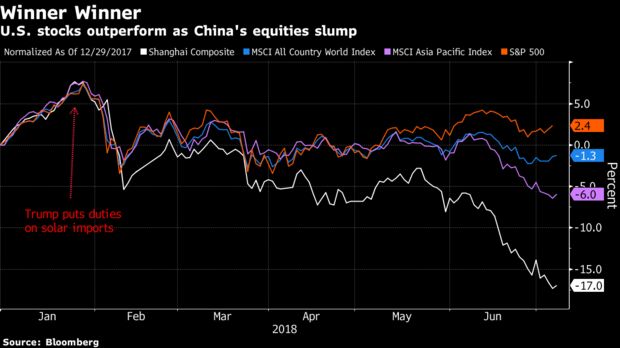 The trade war reached an important milestone Friday as the U.S. pulled the trigger on $34 billion of tariffs on Chinese imports, fueling concern global growth may be the casualty as China responds in kind. The Asian country said it's retaliatory tariffs have taken effect, without giving details. Monthly jobs numbers from the world's biggest economy will be closely watched, after disappointing precursors were published on Thursday.
"The usually highly anticipated report comes as trade tensions intensify between the U.S. and Chinese and are about to step up a gear, so the Labor Department's report may not attract as much attention as normal,"  Jasper Lawler, head of research at London Capital Group Ltd. said in a note. "This does not mean that the report will be less likely to cause volatility in the dollar."
Meanwhile, West Texas crude slipped below $73 a barrel and copper held near recent one-year lows. Emerging-market stocks headed for the first gain in a week.
Terminal users can read more in Bloomberg's Markets Live blog.
Here are the main market moves:
Stocks
The Stoxx Europe 600 Index climbed 0.1 percent as of 10:14 a.m. London time, the highest in two weeks.
Futures on the S&P 500 Index declined 0.1 percent.
The MSCI All-Country World Index increased 0.1 percent to the highest in two weeks.
The MSCI Emerging Market Index rose 0.1 percent, the first advance in a week.
Currencies
The Bloomberg Dollar Spot Index decreased 0.1 percent to the lowest in more than three weeks.
The euro increased 0.2 percent to $1.1715, the strongest in more than three weeks.
The British pound climbed 0.2 percent to $1.3242, the strongest in more than a week.
The Japanese yen gained less than 0.05 percent to 110.60 per dollar.
Bonds
The yield on 10-year Treasuries climbed less than one basis point to 2.83 percent.
Germany's 10-year yield fell less than one basis point to 0.30 percent.
Britain's 10-year yield gained less than one basis point to 1.258 percent.
Commodities
The Bloomberg Commodity Index decreased 0.3 percent to the lowest in more than six months.
West Texas Intermediate crude declined 0.1 percent to $72.85 a barrel, the lowest in more than a week.
LME copper dipped 0.6 percent to $6,306.00 per metric ton, reaching the lowest in more than 11 months on its fifth consecutive decline.
Gold fell 0.2 percent to $1,255.31 an ounce.
By Eddie van der Walt – July 6, 2018, 7:44 PM GMT+10
— With assistance by Cecile Vannucci, Gregor Stuart Hunter, Matthew Burgess, Adam Haigh, and Sid Verma
Source: Bloomberg