U.K. currency slides as poll shows Tories may miss majority

China data provides short-lived market bounce; dollar steady
The British pound was the stand-out amid muted moves in many markets, weakening on the prospect of a hung parliament in next week's U.K. election and handing a boost to stocks. Crude fell a second day before the release of supply data.
Sterling dropped for the first time this week as a poll showed Theresa May's Conservative Party may fall short of a majority. The currency's weakness lent a hand to British equities, and the FTSE 100 Index rose as miners and energy companies weighed on the broader European gauge. Oil extended losses even as industry data later is expected to show a supply drop in the U.S. The American drill count is at the highest since April 2015.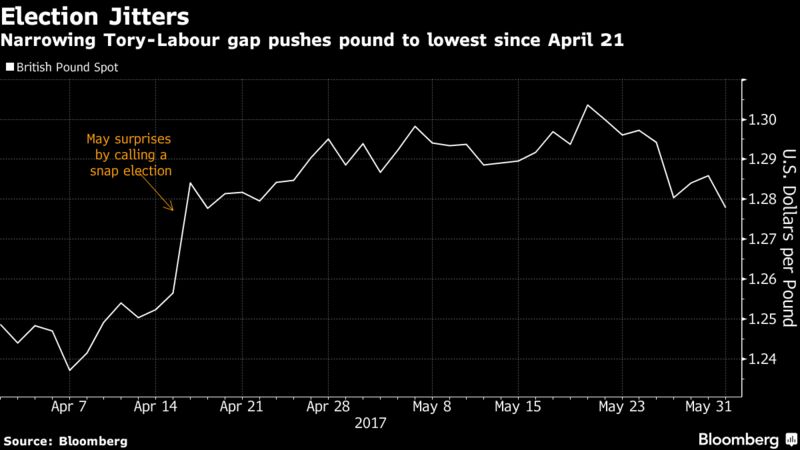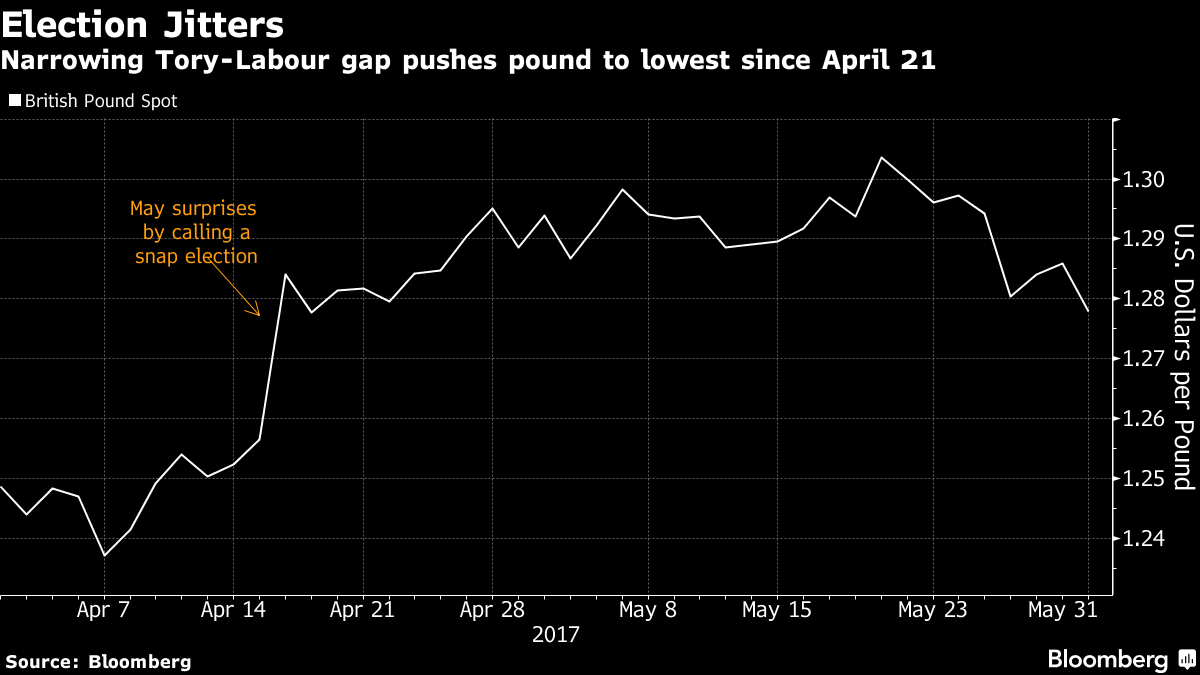 Uncertainty about the reliability of polling seems to have helped contain the pound's retreat, but the moves are a reminder of the potential risks surrounding a series of national elections in Europe this year. Meanwhile, with key central bank meetings next month on both sides of the Atlantic, investors remain focused on this week's slew of economic data to gauge both the strength of the global economy and the path for interest rates.
"The importance of politics as a market driver currently can't be overstated," Societe Generale SA strategist Kit Juckes wrote in a client note.
Click here to read our Markets Live blog.
Here are some of the key events coming up:
The EIA is due to release its monthly supply reports.
Fed official Robert Kaplan will be speaking in New York on Wednesday.
The Fed's Beige Book is out today. It may reflect healthy gains in hiring, but household spending probably rose only modestly, while retail sales were mixed and manufacturing lost some momentum.
The U.S. jobs report Friday may bolster the case for a rate hike, with a gain of 180,000 positions expected.
Brazil's central-bank decision is on Wednesday.
Here are the main movers in markets:
Asia
China's offshore yuan jumped the most in four months as funding costs surged amid speculation policy makers were supporting the currency in the wake of a surprise sovereign rating downgrade.
The MSCI Asia Pacific Index dropped 0.1 percent, paring its advance for May to 2.6 percent.
The Shanghai Composite rose 0.2 percent, after an earlier gain of 1.1 percent on better-than-expected Chinese factory data.
Stocks
The Stoxx Europe 600 Index fell 0.1 percent at 10:11 a.m. in London, trimming a monthly gain to 0.8 percent.
Futures on the S&P 500 were little changed. The benchmark index slipped 0.1 percent Tuesday, retreating for the first time in eight days.
Currencies
The pound dropped 0.6 percent to $1.2788. The euro edged less than 0.1 percent lower, heading for a monthly gain of 2.6 percent, its best performance since January.
The yen was little changed at 110.85 per dollar after rising 0.4 percent Tuesday. The South African rand strengthened 0.4 percent, after tumbling for two days.
The Bloomberg Dollar Spot Index was little changed for a third straight day. The gauge is down 1.3 percent for the month.
Commodities
Gold was little changed at $1,263.30 an ounce after a 0.4 percent loss Tuesday.
West Texas Intermediate oil dropped 1.1 percent to $49.13 a barrel after retreating 0.3 percent in the previous session.
Bonds
The yield on 10-year Treasuries rose one basis point to 2.22 percent after declining four basis points in the previous session.
Benchmark yields in the U.K. were little changed after a drop of two basis points Tuesday.
by Jeff Sutherland and Samuel Potter
May 31, 2017, 7:13 PM GMT+10
Source: Bloomberg