We have been negative towards the Kiwi in our Trend Table for some months. Has anything changed? No is the short answer although AUDNZD bears closer attention. I'll look below at the current situation for the NZD against USD, NZD and the Euro.
in NZDUSD the negative break was later than elsewhere, occurring in August with the market declining almost 4 big figures since. There has been some minor bounces along the way, with the latest of them being seen in the early part of this week.
But our RSI indicator is clearly bearish, rallies remain well short of the 13 & 21 week averages and spot NZDUSD is tracking the lower end of a falling Keltner channel. Immediate downside targets below this month's .6780 low are .6695 and .6618.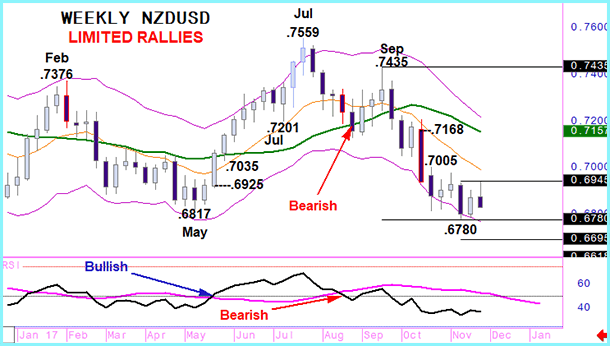 EURNZD has been on a positive trend since March with the cross rising by more than 12% in that time. The 21 week moving average protected the downside at the time of the only really aggressive setback during June and over the last 3 months spot EURNZD has been near to the top of a steadily rising Keltner channel – emphasising the trend.
Interestingly, recent profit taking setbacks have been limited by weekly Marabuzo lines. These can be seen on the chart below. There is no sign of any significant stalling of demand in this cross and current upward targets include 1.7613 and 1.7846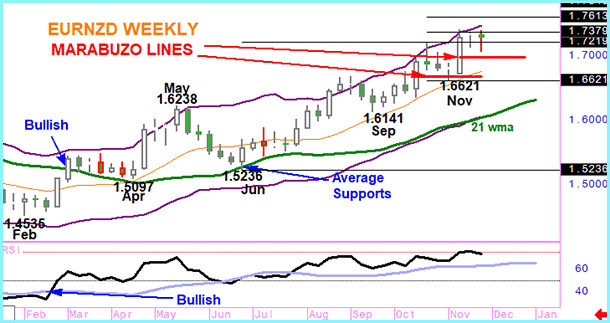 ---
It is AUDNZD that is currently showing a slightly better NZD performance;
Bullish since the beginning of August, the setbacks here have been more aggressive with the latest decline this week trading through the mid-point of the Keltner channel and testing the trend defining 21 week average. The market has bounced from those points, so our technical bias continues to be bullish, but with the RSI indicator marginally in negative territory this cross offers our current outlook the greatest threat.
A negative tone will be provided by a NYK close Friday beneath 1.0955.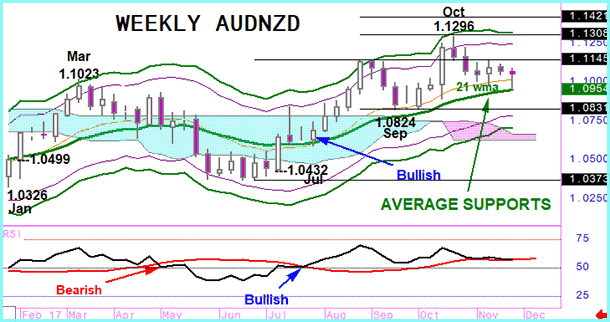 About FX Renew
This blog post was published on www.fxrenew.com, a provider of Forex signals from ex-bank and hedge fund traders (get a free trial). If you like this post, subscribe to the blog for free or get free access to the acclaimed Advanced Forex Course for Smart Traders.