European shares resume drop; Aussie dollar jumps post-election

Crude oil pushes higher on OPEC; Indian stocks surge amid poll
Stocks swung from gains to losses while bonds slipped globally as traders cast their eyes over developments in the trade war and a series of major elections. The dollar drifted and crude oil advanced.
The Stoxx Europe 600 index reversed a brief gain as chemicals and tech shares led the decline, while U.S. equity-index futures pointed to a weak opening. Shares were mostly mixed across Asia, but they rallied in Australia and the nation's currency jumped after a
surprise
 election victory for conservative Prime Minister Scott Morrison. Indian shares also surged as exit polls showed Prime Minister Narendra Modi was 
poised to
 retain power. China's offshore yuan strengthened, signaling some relief after trade turmoil dragged down the currency to a five-month low.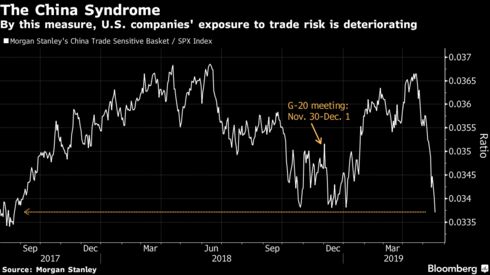 Markets remain fragile after the trade war escalated, with the impact of the White House's threats to choke Huawei Technologies Co. reverberating across the global supply chain on Monday and hitting some of the biggest component-makers. In the absence of fresh headlines on the protectionist showdown, attention will turn to a slew of U.S. data this week as well as Federal Reserve policy-meeting minutes on Wednesday.
"Cash levels are at quite elevated levels and investors have money to put back into the market," Michael Metcalfe, global head of macro strategy at State Street, told Bloomberg TV in Hong Kong. "That dry powder, that potential for cash to come back in, means that once we get a resolution of the trade war and once we start to see better economic data, as we've just seen in Japan for instance, then that money is going to get dragged back out of cash into the market."
Elsewhere, crude climbed after Saudi Arabia and other key producers in OPEC signaled their intention to keep oil supplies constrained for the rest of the year, while pledging to prevent any genuine shortages. Treasury yields climbed. The euro steadied after five days of declines as elections for the European Parliament approached.
Here are some notable events coming up:
On Tuesday, Bank of England Governor Mark Carney testifies to Parliament about the May inflation report on Tuesday, and Reserve Bank of Australia Governor Philip Lowe speaks in Brisbane.
The Fed minutes of its FOMC April 30-May 1 policy meeting will be released Wednesday.
Counting of votes from the Indian general elections takes place Thursday as Prime Minister Narendra Modi attempts to secure a second term.
ECB President Mario Draghi speaks in Frankfurt on Wednesday.
The European Parliament holds continent-wide elections May 23-26.
On Thursday, the ECB publishes its account of the April monetary policy decision.
And these are the main moves in markets:
Stocks
The Stoxx Europe 600 Index fell 0.7% as of 10:00 a.m. London time.
Futures on the S&P 500 Index declined 0.1%.
India's Sensex Index increased 3.4%, heading for the largest climb in more than three years.
The MSCI Emerging Market Index dipped less than 0.05%.
Currencies
The Bloomberg Dollar Spot Index declined less than 0.05%.
The euro declined less than 0.05% to $1.1157, reaching the weakest in almost three weeks.
The Japanese yen rose 0.1% to 110.02 per dollar.
The Australian dollar gained 0.8% to 0.692 per dollar, the biggest rise in 15 weeks.
Bonds
The yield on 10-year Treasuries increased one basis point to 2.40%.
The yield on two-year Treasuries rose two basis points to 2.22%.
Germany's 10-year yield rose one basis point to -0.09%, the largest advance in two weeks.
Commodities
Gold dipped 0.2% to $1,275.23 an ounce.
West Texas Intermediate crude gained 0.4% to $63.02 a barrel, the highest in more than two weeks.
Wheat rose 1.5% to $4.72 a bushel, the highest in six weeks.
By Todd White
— With assistance by Cormac Mullen, and Adam Haigh
20 May 2019, 19:03 GMT+10
Source: Bloomberg