Lousy PMI numbers knock confidence despite trade fears easing

Gold turns higher; Asia markets are mixed with Tokyo closed
European stocks declined and U.S. equity futures reversed an advance as disappointing data in the euro area overshadowed easing concerns about relations between America and China. Treasuries turned higher and the common currency slid.
Manufacturing and services numbers for the euro zone came in far short of estimates on Monday, with disappointing readings from countries including Germany and France. The Stoxx Europe 600 Index extended losses and European bonds rallied. Contracts for all three main U.S. benchmarks gave up earlier gains, which had been spurred after people familiar with the matter said a planned visit to American farms by a Chinese delegation was canceled at the request of the U.S. — news which eased immediate fears over the outlook for trade talks.
Stocks in Asia were mixed and drifty, with Tokyo shut for a holiday. Equities in India continued a surge, while those in Shanghai dropped. The onshore yuan fell amid caution in the run-up to next week's national holidays. The Korean won sank as exports continued to deteriorate.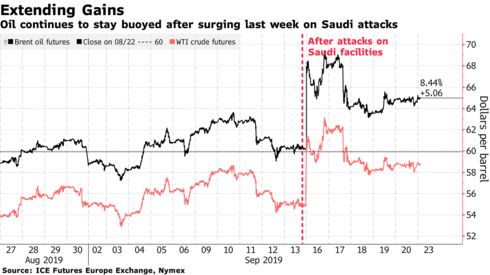 The gloomy data from the heart of the euro area was a stark reminder to investors of the fragility of the global economy. While markets remain on edge ahead of next month's planned high-level trade talks between the U.S. and China, they're also fixated on any action or messaging from the world's major central banks that could support growth. A slew of policy makers will speak this week.
"Global growth risks are rising," Beverley Morris, director of rates and inflation at QIC Ltd. in Brisbane, told Bloomberg TV. "It's certainly not panic stations at this stage, but certainly in terms of our portfolio actions, we are being more cautious."
Elsewhere, oil was steady following a report that full repairs to Saudi facilities hit by a drone attack may take many months.
These are some key events coming up this week:
New York Fed President John Williams speaks at the U.S. Treasury Market Conference hosted at his bank Monday. San Francisco Fed President Mary Daly delivers remarks in Salem, Oregon.
Decisions are due Wednesday from central banks in New Zealand and Thailand. Thursday brings a monetary policy decision in the Philippines.
Core PCE — the Fed's preferred inflation measure — is forecast for 1.8%, the strongest reading since January. That's due Friday.
Here are the main moves in markets:
Stocks
Futures on the S&P 500 Index decreased 0.1% as of 10:30 a.m. London time.
The Stoxx Europe 600 Index sank 0.8%.
The Shanghai Composite Index fell 1%.
The MSCI Emerging Market Index dipped 0.4%.
Currencies
The Bloomberg Dollar Spot Index climbed 0.2%.
The euro declined 0.4% to $1.0968.
The British pound declined 0.4% to $1.2432.
The onshore yuan decreased 0.5% to 7.128 per dollar.
The Japanese yen increased 0.2% to 107.37 per dollar.
Bonds
The yield on 10-year Treasuries declined three basis points to 1.69%.
The yield on two-year Treasuries dipped two basis points to 1.66%.
Germany's 10-year yield decreased six basis points to -0.58%.
Britain's 10-year yield declined seven basis points to 0.555%.
Japan's 10-year yield was unchanged at -0.207%.
Commodities
West Texas Intermediate crude increased 0.1% to $58.14 a barrel.
Iron ore gained 1.9% to $90.25 per metric ton.
Gold increased 0.2% to $1,519.74 an ounce.
23 September 2019 – 23 September 2019, 19:32 GMT+10
— With assistance by Sam Kim, Matt Turner, Gregor Stuart Hunter, and Adam Haigh
Source: Bloomberg