November bounce evaporating fast as 'wall of worry' sets in

Tech outlook dims, trade back in focus, Fed still set to hike
Asian stocks traded lower Thursday following a tech-led slump on Wall Street overnight though the worst of the losses were pared on hopes for progress in the U.S.-China trade dispute. Treasury yields dropped and the dollar slipped from an 18-month high.
Key indexes slid from Tokyo and Seoul to Sydney, with Apple Inc. suppliers under pressure after the iPhone maker fell 5 percent on signs of a deteriorating sales outlook. Stocks came off their lows on a report that China's Vice Premier Liu He will visit the U.S. to pave the way for a meeting between the leaders of the two biggest economies later this month, which also supported some currencies.
Hopes of a resumption in trade talks helped Chinese shares swing from declines of more than 1 percent to gains of a similar magnitude with small-caps boosted by government pledges to support the private sector. Hong Kong stocks erased a slide. S&P 500 Index futures pushed higher and U.K. futures tipped modest gains at the open. Earlier, the Nasdaq 100 Index dropped for a third day and the Russell 2000 small-cap benchmark erased its gains for the year. Oil fell for a record 12th straight day Tuesday.
Seeing Red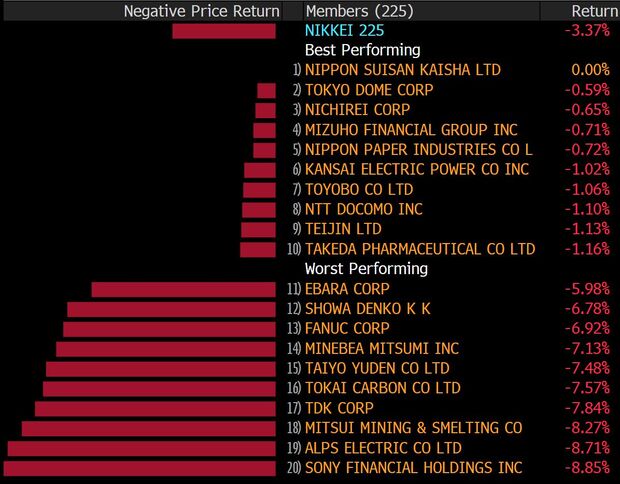 The latest warning on consumer appetite for electronics came from Lumentum Holdings Inc., an Apple supplier that said a top customer asked to "meaningfully reduce shipments" for previously placed orders. Deteriorating sentiment towards tech has hit the sector that had propelled American stock gains until October. Trade-war worries are also rising, with the White House circulating a draft report on auto tariffs.
In the background is a Federal Reserve that continues on its path of policy normalization. San Francisco Fed President Mary Daly indicated Monday that she isn't worried about recent declines in stocks. A "broad consensus" had agreed that "valuations were higher than could be supported," she said. "So then a correction is something that I would view as a positive." The Fed is forecast to hike interest rates again next month.
"We always talk about that proverbial wall of worry and that wall right now is pretty high," David Kudla, chief executive officer of Mainstay Capital Management, said on Bloomberg TV. "We have the issues in China with the growth concerns there, we have the issues in Europe with the battle between the Italy and the EU, the U.K. getting ready for Brexit. There is some guidance lower on earnings, and a Federal Reserve that is going to raise rates."
The Australian and New Zealand dollars climbed on the reports that the U.S. and China are inching closer toward resolving the trade war. China and the U.S. will find a solution to their differences over trade that meets both countries' common interests, Chinese Premier Li Keqiang said in Singapore Tuesday. The yen, a proxy in times of uncertainty, swung to a loss.
Elsewhere, Britain's pound pared losses from the past three days as pressure builds on U.K. Prime Minister Theresa May to ditch her Brexit plan. The euro recovered from its weakest against the dollar since June 2017 ahead of more potential stress around Italy's budget.
Terminal users can read more in our Markets Live blog.
Coming Up
Tuesday marks the deadline set by the EU for Italy to revise its budget.
Chinese industrial production and retail sales data due Wednesday.
Fed Chairman Jerome Powell discusses national and global economic issues with Dallas Fed President Robert Kaplan at an event hosted by the Dallas Fed
U.S. consumer inflation probably rebounded in October after easing in September. The consumer price index data is projected to show a 0.3 percent increase from the prior month.
Policy decisions are coming from central banks in Mexico, Philippines, and Thailand.
These are the main moves in markets:
Stocks
Japan's Topix index slumped 2 percent at the 3 p.m. close in Tokyo.
Australia's S&P/ASX 200 Index dropped 1.8 percent.
South Korea's Kospi index fell 0.6 percent.
Hong Kong Hang Seng Index rose 0.3 percent.
Shanghai Composite Index rose 1.2 percent.
S&P 500 futures gained 0.6 percent. The S&P 500 Index fell 2 percent Monday, when the Nasdaq 100 tumbled 3 percent.
FTSE 100 Index futures added 0.2 percent.
Currencies
The yen dipped 0.1 percent to 113.97 percent.
The offshore yuan advanced 0.2 percent to 6.9474 per dollar.
The Bloomberg Dollar Spot Index nudged lower after increasing 0.6 percent Monday to the highest in 18 months.
The euro climbed 0.2 percent to $1.1240.
The British pound rose 0.2 percent to $1.2873 after losing 0.9 percent Monday.
Bonds
Yields on 10-year U.S. Treasuries dropped about one basis point to 3.17 percent.
Australia's 10-year bond yield fell one basis point to 2.73 percent.
Commodities
West Texas Intermediate crude declined 1.4 percent to $59.07 a barrel.
Gold gained 0.3 percent to $1,204.16 an ounce.
— With assistance by Vildana Hajric, Sarah Ponczek, and Todd White
November 13, 2018, 5:13 PM GMT+11
Source: Bloomberg