Featured Article
FXWW is a provider of professional services as well as being a network of professional traders in the interban …

More&gt&gt

Sean Lee wants to help you become a top FX trader, no matter whether you're living in New York or Nairobi. L …

More&gt&gt
MOST RECENT ARTICLES
From the FXWW Chatroom: Interesting levels looming again in EUR/GBP. If support holds around .8700 there is plenty of room for 300 pip bounce back towards .9000 again. If support breaks, likely signal for move towards .8300. Obviously Brexit-headline dependent. View the latest market information in the FXWW Chatroom with a free trial.
---
Equities decline in Europe, China as traders reassess outlook Greenback slides after Fed tightens rate path through 2020 Treasuries rose, the dollar extended losses and stocks slipped in Europe as traders assessed the implications of higher borrowing costs in the U.S. and China alongside global trade tensions, with President Donald Trump set to announce tariffs […]
---
From the FXWW Chatroom: (1) would there be a shift in language around risks being "roughly balanced;" (2) would the median dot rise from three to four rate hikes this year with the terminal dot rising commensurately; and (3) would Chair Powell convey a more hawkish tone with respect to the risks of the economy […]
---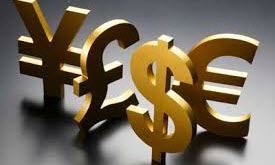 EURUSD: 1.2345 EurUsd has reversed the losses of the previous session following the FOMC Meeting, and despite the mildly hawkish tilt from the Fed coming on top of the rate hike, the US$ has ended the day under pressure, at session lows. The PMIs and the IFO will be in focus today but also keep […]
---
From the FXWW Chatroom: Average cash balance ticks down from 4.7% last month to 4.6% in March · The threat of a trade war (30%) returns to the top of list of tail risks most commonly cited by investors for the first time since January 2017, followed by inflation (23%) and a slowdown in global […]
---
The most important event risk this week will be Wednesday's Federal Reserve meeting. This will not only be Jerome Powell's first FOMC as Fed Chair but the central bank is widely expected to raise interest for the first time this year. Thankfully the rate hike is not controversial and has been fully priced in. The […]
---
The US$ is making a cautious move higher ahead of today's FOMC meeting and the EUR has capitulated by edging lower. This has meant that some decent TC signals triggered of USD-based pairs and that it was the FX Cross pairs turn to chop sideways. Data: today brings GBP Employment data, US Crude Oil Inventories […]
---
From the FXWW Chatroom: The biggest move came from UsdCad after the news article by Globe and Mail. UsdCad, which was trading at 1.3070, traded lower to 1.3022. Where next for UsdCad? We should see some buying ahead of 1.3000. No option strikes, just pure psychological level. AudUsd marginally firmer from where North America ended, […]
---
About Forexsites
Forexsites was established in 2002 and caters primarily for beginner to intermediate traders.
Forexsites offers currency specific information, sector specific news, and many other useful features helping to create informed trading decisions.
If you are a trader that wants to move to the next level then Forexsites can help through its many worldwide contacts. You may want to enter the Hedge Fund industry but don't know where to start Forexsites can assist in this process and assess through its contacts whether you have what it takes in this specialist field.
You may be entering the forex markets for the first time and are unsure where to start Forexsites will guide you at each step informing you on what you are doing right and where you are going wrong.
The forex industry is growing daily and there are thousands of sites offering information. Forexsites goal is to deliver information to not only foreign exchange traders but all traders worldwide in a convenient format easily accessed and of a consistently high quality.
Follow Forexsites on Twitter. For editorial inquiries please e-mail: info@forexsites.com. For advertising opportunities please email adv@forexsites.com.