Key event this week is Fed policy meeting on Wednesday

Apple screen plans hits Asian tech stocks; dollar steady
Stocks in Asia were mixed, with Japanese shares declining as the country's political drama tests investor nerves and as Apple Inc.'s move to make its own displays for the first time hit regional producers.
The MSCI Asia Pacific Index of stocks fell, with technology shares weighing after Apple was said to be making a significant investment in the development of next-generation MicroLED screens. Stock benchmarks in Japan dropped more than 1 percent at one point, while shares also declined in South Korea. Equities in Australia, Hong Kong and China nudged higher.
The yen strengthened as a nationwide survey showed a decline in support for Japanese Prime Minister Shinzo Abe's cabinet, which has championed weakness in the currency. U.S. Treasury yields ticked higher and the dollar steadied.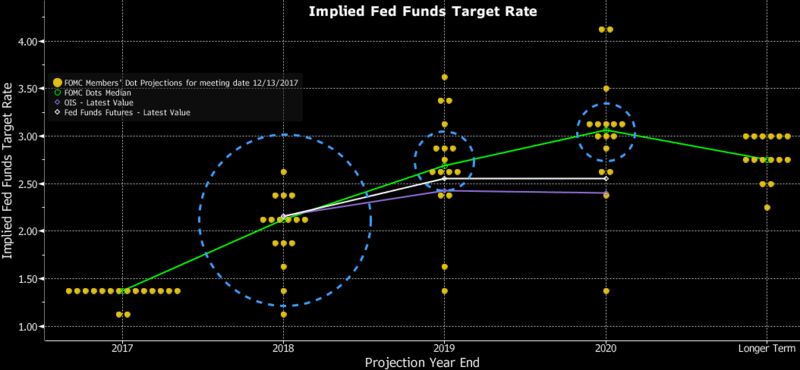 The focus later this week turns to Jerome Powell's first meeting as chairman of the Federal Reserve. It comes just weeks after he hinted to investors that he's open to lifting the policy rate four times this year, rather than the three currently reflected in dot-plot forecasts. Some Wall Street banks such as Goldman Sachs Group Inc. expect that median projection to rise to four on Wednesday, while others say there will be no change following a round of mediocre data and policy makers' stated intentions to move gradually.
Trade tensions also remain in focus as U.S. Treasury official David Malpass said he misspoke hours after claiming the U.S. was pulling out of decade-old formal economic talks with Beijing. Investors also are assessing the implications of a new head at China's central bank, after Yi Gang was named to run the PBOC.
Elsewhere, Bitcoin recovered to trade back above $8,000 after tumbling as much as 13 percent. Oil fell to around $62 a barrel.
Here are some key calendar events coming up this week:
The FOMC decision and Powell's news conference come on Wednesday.
The Bank of England is expected to keep interest rates and its asset-purchase program unchanged on Thursday. Attention is on language in the statement, while many forecast the bank could increase its key rate as soon as its next meeting in May.
Saudi Crown Prince Mohammed bin Salman meets with President Donald Trump at the White House on Tuesday as part of a U.S. visit that includes New York, Boston, San Francisco and Seattle.
Company earnings scheduled for this week include: Tencent, FedEx, Porsche, Hermes, PetroChina, Nike, Enel and Oracle.
Terminal users can read more in our markets blog.
These are the main moves in markets:
Stocks
The MSCI Asia Pacific fell 0.3 percent.
Japan's Topix index fell 0.7 percent.
Kospi index dipped 0.6 percent.
Australia's S&P/ASX 200 Index rose 0.3 percent.
Futures on the S&P 500 Index fell 0.2 percent.
Currencies
The Bloomberg Dollar Spot Index rose less than 0.1 percent.
The Japanese yen rose 0.2 percent to 105.81 per dollar.
The euro fell 0.2 percent to $1.2270.
Bonds
The yield on 10-year Treasuries rose one basis point to 2.85 percent.
Japan's 10-year yield was unchanged at 0.038 percent.
Australia's 10-year yield rose one basis point to 2.71 percent.
Commodities
West Texas Intermediate crude fell 0.6 percent to $62 a barrel.
Gold fell 0.2 percent to $1,312.18 an ounce.
LME copper fell 0.8 percent to $6,830 per metric ton.
By Adam Haigh
March 19, 2018, 3:16 PM GMT+11
Source: Bloomberg