Asian equity traders adopted a cautious tone Tuesday following a dip in U.S. stocks, with focus turning to a U.S. inflation report for clues on the pace of Federal Reserve policy tightening. The dollar gained against major peers and Treasury yields held declines.
apanese stocks fluctuated before closing higher, while Hong Kong and Chinese shares drifted. Australian equities slid, weighed by banks and miners. The S&P 500 Index slipped overnight following its biggest rally in five weeks that was spurred by a better-than-expected jobs report. The yen weakened as investors discounted the political fallout from a scandal embroiling Japanese Finance Minister Taro Aso. The U.S. 10-year yield held at 2.87 percent after Monday's Treasury auction was broadly in line with expectations.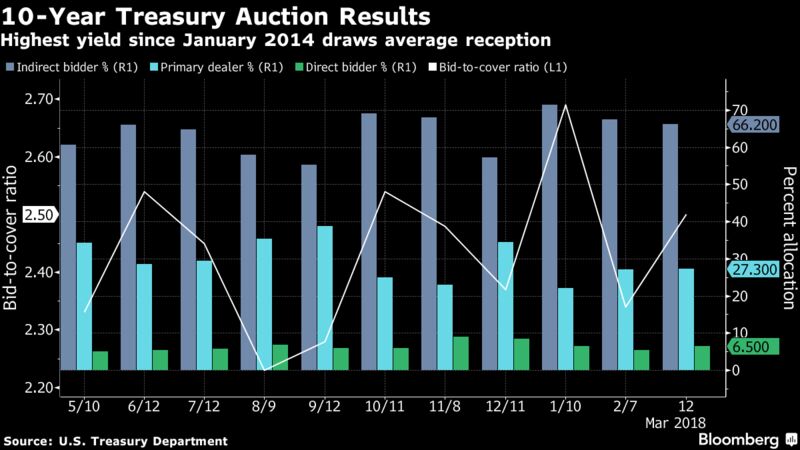 The yen erased Monday's rally spurred by political concerns surrounding Japan's Finance Ministry, run by Aso, a stalwart ally of Prime Minister Shinzo Abe, whose administration has endorsed a weak currency.
"Considering what is going on in the world — we have trade frictions, we have North Korea — in the context of the whole thing, what is happening in Japan is insignificant," Nader Naeimi, head of dynamic markets at AMP Capital Investors in Sydney told Bloomberg TV. Naeimi said he expected the yen to weaken before starting to firm again.
Investors are looking to American inflation and retail sales data followed by reports on Chinese industrial production, retail sales and fixed-asset investment to provide direction for markets this week. The U.S. inflation reading is the last major piece of data ahead of the Federal Reserve's policy meeting next week.
Politics also remain in focus after President Donald Trump issued an executive order blocking Broadcom Ltd. from acquiring Qualcomm Inc., scuttling a $117 billion hostile takeover that had been subject of scrutiny over the deal's threat to U.S. national security.
Elsewhere, oil fell back below $62 a barrel and prices of industrial metals tumbled.
Terminal users can read more in our markets blog.
Here are some of the key things happening this week:
China data on industrial production, retail sales and fixed-asset investment all out on Wednesday are likely to point to slower growth, according to Bloomberg Economics forecasts.
Key indicators for the Fed dominate the economic agenda in the coming week. Headline inflation may have edged up to 2.2 percent in February from 2.1 percent, though consensus before Tuesday's report is for core inflation to remain at 1.8 percent.
Prices and factory output are focal points in the euro area. Friday's second inflation report for February may touch 1.2% from 1.1% the previous month.
Also this week, Germany's Angela Merkel is inaugurated to a fourth term, EU27 government officials discuss the European Union's Brexit position, and U.K. Chancellor of the Exchequer Philip Hammond issues his spring statement.
And these are the main moves in markets:
Stocks
Japan's Topix index gained 0.6 percent at the close in Tokyo.
South Korea's Kospi index was up 0.2 percent.
Australia's S&P/ASX 200 Index declined 0.4 percent.
Hong Kong's Hang Seng Index fell 0.2 percent and the Shanghai Composite Index lost 0.2 percent.
S&P 500 Index futures was up less than 0.05 percent. The underlying measure lost 0.1 percent.
Currencies
The Bloomberg Dollar Spot Index rose 0.1 percent.
The yen fell 0.3 percent at 106.78 per dollar.
The euro inched lower to $1.2327.
The pound fell 0.1 percent to $1.3887.
Bonds
The yield on 10-year Treasuries held at 2.87 percent.
Australia's 10-year yield fell one basis point to 2.81 percent.
Commodities
West Texas Intermediate crude held onto losses after decreasing 1.1 percent, to be little changed at $61.35 a barrel.
Gold fell 0.2 percent to $1,320.04 an ounce.
By Adam Haigh – March 13, 2018, 5:07 PM GMT+11
— With assistance by Brian Chappatta
Source: Bloomberg