S&P 500 dropped 2.1%, Nasdaq fell 1.1%; Treasuries edge down

China's yuan in focus as U.S. Treasury currency report looms
Most Asian stocks recovered Friday after the biggest sell-off in global equities since February, as U.S. stock futures extended gains and Treasury yields ticked higher. The dollar steadied and the yen gave back some of its recent gains.
The MSCI Asia Pacific Index climbed from the lowest level since May 2017, with shares in Hong Kong and South Korea leading the way. While benchmarks in Tokyo struggled for traction, shares in Shanghai staged an afternoon rally and U.K. equity futures climbed. The yuan retreated, and was the worst performing currency in Asia Friday after a weaker-than-forecast daily fixing. That followed a Bloomberg report that U.S. Treasury staff concluded that China isn't manipulating its exchange rate.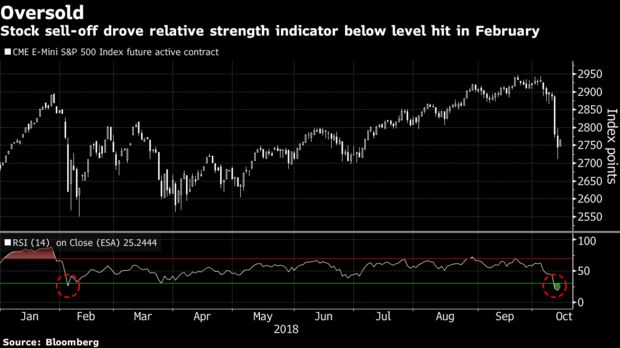 On Thursday in the U.S., tech shares, which bore the brunt of the selling Wednesday, fared less badly as key benchmarks tumbled in excess of 2 percent for a second day.
Investors ascribed a number of reasons for the retreat in equities this week, including worries over the U.S.-China trade war and increasing preoccupation with the risk the American economy is nearing the end of an extraordinarily prolonged expansion. Remarks by Federal Reserve Chairman Jerome Powell last week that the central bank is "a long way" from a neutral level of interest rates also fed into sentiment.
"Folks are re-rating whether the Fed is going to tighten too much — I think that's the fear," said Michael Arone, chief investment strategist at State Street Global Advisors in Boston. Even so, "nothing's really changed in terms of the Fed's path, and I think the economy continues to be quite strong," Arone said, concluding that investors "have had a violent overreaction."
President Donald Trump made clear in remarks over the past two days that his take is the Fed is to blame for sending the S&P 500 to a three-month low. Next up for investors will be to assess corporate earnings for the third-quarter. JPMorgan Chase & Co., Citigroup Inc. and Wells Fargo & Co. kick off the season for U.S. banks on Friday.
Read More About the Market Turmoil:
Back in Asia, Singapore's dollar advanced after the central bank tightened its policy stance as anticipated on Friday. Traders will be watching the yuan after the report that U.S. Treasury staff advised Secretary Steven Mnuchin that China isn't manipulating the yuan, as the Trump administration prepares to issue a closely watched report on foreign currencies.
Elsewhere, West Texas oil recovered, while still heading for the biggest weekly drop since July.
Terminal readers can follow our Markets Live blog.
These are the main moves in markets:
Stocks
The MSCI Asia Pacific Index jumped 1.2 percent as of 2:30 p.m. Tokyo time.
Topix index added 0.3 percent.
Hong Kong's Hang Seng Index surged 1.9 percent.
Kospi index surged 1.9 percent.
Australia's S&P/ASX 200 Index rose 0.2 percent.
Futures on the S&P 500 Index rose 1.2 percent.
Currencies
The Japanese yen sank 0.2 percent to 112.40 per dollar.
The offshore yuan fell 0.2 percent to 6.8895 per dollar.
The euro rose 0.1 percent to $1.1605.
The Bloomberg Dollar Spot Index slid 0.1 percent.
Bonds
The yield on 10-year Treasuries jumped three basis points to 3.18 percent.
Australia's 10-year yield climbed 2 basis points to 2.75 percent.
Commodities
West Texas Intermediate crude rose 1.1 percent to $71.78 a barrel.
Gold fell 0.3 percent to $1,220.72 an ounce.
LME copper rose 0.7 percent to $6,287.00 p5r metric ton.
By Adam Haigh  
October 12, 2018, 4:40 PM GMT+11
Source: Bloomberg