Japan's Nikkei 225 enters correction; Dow futures extend slide

Treasuries advance as investors flee to relative safety
Asian stocks plunged for a second day and U.S. stock futures continued to decline after a frantic sell-off in equity markets. Investors fled to havens, lifting the yen and Treasuries.
The Nikkei 225 Stock Average closed off its intraday lows, though the bounce was not enough to prevent a more than 10 percent tumble from a high on Jan. 23, which is technically considered as entering a correction. Stocks across the region extended a global slump with virtually all shares on the 1,000-plus member MSCI Asia Pacific Index down. Volatility on the Nikkei 225 Stock Average spiked the most since 2013 and trading volume was more than double the 30-day average.
Futures on the S&P 500 Index are down 10 percent from the record high less than two weeks back; the underlying gauge slid the most since 2011 Monday. Ten-year Treasury yields are down about a fifth of a percentage point from the recent high as investors seek protection from the slide in stocks.
"How far it goes down? You tell me," Steven Wieting, global chief investment strategist at Citigroup Inc., told Bloomberg TV. "But this speed of decline you cannot keep doing this day after day after day without finding some sort of bottom rather quickly," he said — though anticipating that markets will stay volatile for a while.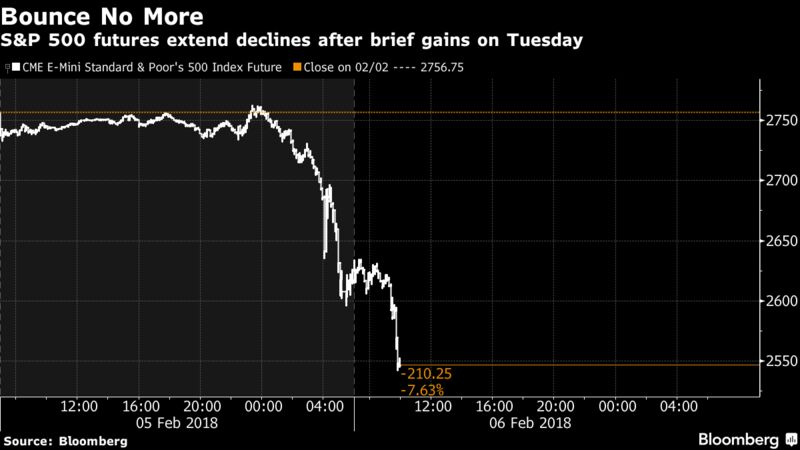 Elsewhere, oil slumped for a third day and metals joined the sell-off after gaining on Monday. The yen strengthened against the dollar. Bitcoin tumbled for a sixth day to trade around $6,000.
See our blog on the current sell-off here, and for our broader blog on markets, click here.
For more on the slide in stocks, see:
Traders Aren't Panicking Despite Massive Late-Session Stock Rout
Bad Day Turns Terrifying as Dow Suffers Worst Point Plunge Ever
VIX at 38 Is Waterloo for Short Vol Trade That Everyone Adored
Goldman Is Warning of More Pain Ahead. Don't Listen: Gadfly
China's Willingness to Defend Its Stock Markets Put to Test
Dow's 15-Minute Plunge Had Elements of a 'Flash Crash,' ISI Says
Volatility Jump Has Traders Asking About VIX Note Poison Pill
Many finance professionals were left scratching their heads to explain the severity of the moves in a short space of time. Anxiety was building about the outlook for monetary policy prior to Monday's rout, with equities being tested by the surge in bond yields. Global shares had just last month risen to record highs on optimism for expanding profits and economic growth.
Even as the Dow suffered its worst point loss ever, some of the biggest investors remained relatively sanguine. Ray Dalio, founder of the world's largest hedge fund, Bridgewater Associates, said the big declines were "just minor corrections in the scope of things" and there was a lot of cash on the sidelines waiting to buy. Jurrien Timmer, director of global macro at Fidelity Investments, said he doesn't expect the stock market to drop more than 10 percent.
"I actually think there's buying opportunities, maybe not today, but through this week as this sell-off exacerbates," said Sean Fenton, a portfolio manager who oversees about A$1 billion ($788 million) at Tribeca Investment Partners in Sydney.
Here are some key events scheduled for this week:
The Reserve Bank of Australia left rates unchanged for a record 16th meeting Tuesday.
Monetary policy decisions are also due in Russia, India, Brazil, Poland, Romania, the U.K., New Zealand, Serbia, Peru and the Philippines.
Earnings season continues with reports from Toyota Motor Corp., BNP Paribas, BP, General Motors, Walt Disney, SoftBank, Sanofi, Philip Morris, Total, Tesla, Rio Tinto, L'Oreal and Twitter.
Dallas Fed President Robert Kaplan and New York Fed President William Dudley are among policy officials due to speak in Frankfurt and New York.
These are the main moves in markets:
Stocks
Japan's Topix index plunged 4.4 percent at the close in Tokyo, its biggest drop since November 2016, and the Nikkei 225 dropped 4.7 percent, paring a slump of as much as 7.1 percent.
Australia's S&P/ASX 200 Index slid 3.2 percent.
Hong Kong's Hang Seng Index declined 4.3 percent and the Shanghai Composite Index fell 3.2 percent.
South Korea's Kospi index lost 1.3 percent.
Futures on the S&P 500 Index declined 1 percent, erasing earlier gains and falling as much as 3 percent. The underlying gauge tumbled 4.1 percent Monday.
The MSCI Asia Pacific Index plunged 3.3 percent, set for its biggest drop since June 2016, when stocks were hit by the Brexit vote.
Currencies
The Bloomberg Dollar Spot Index gained 0.1 percent.
The yen rose 0.3 percent to 108.79 per dollar after rising 1 percent on Monday.
The euro was little changed at $1.2376.
The pound was steady at $1.3966.
The Australian dollar traded at 78.39 U.S. cents, down 0.4 percent.
Bonds
The yield on 10-year Treasuries fell one basis point to 2.69 percent after plunging more than 13 basis points Monday.
Australia's 10-year bond yield declined more than 11 basis points to 2.82 percent.
Commodities
West Texas Intermediate crude was down 1.1 percent to $63.49 a barrel.
Gold rose 0.3 percent to $1,343.48 an ounce.
By Adam Haigh and Andreea Papuc
February 6, 2018, 5:37 PM GMT+11
— With assistance by Matthew Burgess, Sabrina Willmer, and Katia Porzecanski