Trump says threats from North Korea to be met with fire, fury

European shares slump after Asia declines; rand extends drop
A risk-off tone gripped markets on Wednesday, with gold, the Japanese yen and bonds rising as tension grew between the U.S. and North Korea. European stocks slumped following declines across most of Asia.
The yellow metal headed for it's largest gain this month while the yen and Swiss franc were the biggest advancers among G-10 currencies after President Donald Trump ratcheted up his rhetoric against North Korea. Treasuries and most European government bonds climbed amid the shift to safer assets, while almost every sector of the Stoxx Europe 600 Index fell and emerging markets equities were poised for the biggest drop since June 15. The rand extended losses after South Africa's president survived a no-confidence vote.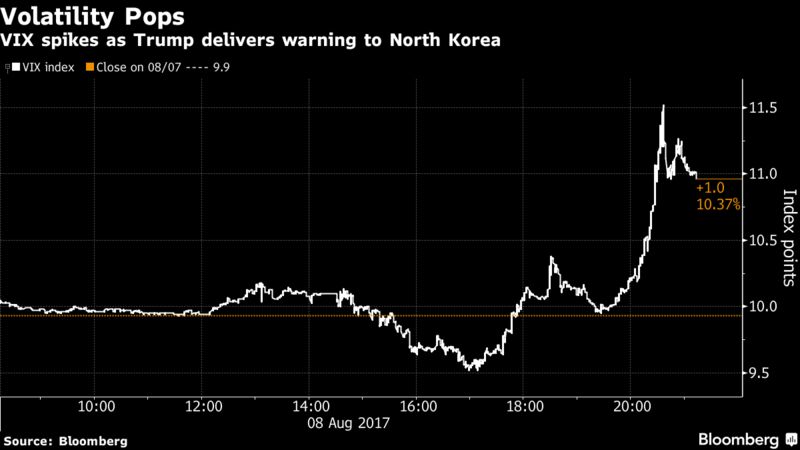 Volatility gauges from the U.S. to Japan rose after Trump said in response to a Washington Post report on North Korea's nuclear capabilities that further threats from the country would be met with "fire and fury." North Korea said it's examining an operational plan for firing a ballistic missile toward Guam.
"Trump in his reactions is something new for all of us," Geraldine Sundstrom, portfolio manager at Pimco Europe, said in an interview on Bloomberg TV. "Given the nature of the threats, given the players are new, it makes the situation a little bit unusual," said Sundstrom, who recommended safe haven trades and minimizing risks through duration.
Meanwhile, China's producer price gains held steady in July on surging commodity prices. The numbers came ahead of Friday's U.S. inflation numbers which will provide another clue on the interest-rate outlook for the world's biggest economy.
Terminal users can read more in our Markets Live blog.
Among the key events looming this week:
U.K. factory output for June is due Thursday, with industrial production for Italy on Wednesday and for France on Friday.
This week's Federal Reserve speakers aren't done: keep a keen ear out for comments by New York Fed boss Bill Dudley on Thursday.
Dutch Prime Minister Mark Rutte resumes talks to form a coalition government on Wednesday.
Argentina, Mexico, New Zealand, Peru, the Philippines, Serbia and Zambia set monetary policy.
Here are the main moves in markets:
Stocks
The Stoxx Europe 600 Index declined 0.6 percent as of 9:54 a.m. in London, the largest drop in more than a week on a closing basis.
The MSCI All-Country World Index fell 0.2 percent.
The U.K.'s FTSE 100 Index declined 0.6 percent, the first retreat in a week.
Germany's DAX Index sank 1.2 percent in the biggest tumble in almost three weeks.
Futures on the S&P 500 Index sank 0.4 percent, the largest decrease in almost five weeks.
The MSCI Emerging Market Index sank 0.9 percent, the biggest dip in almost eight weeks.
Currencies
The euro declined 0.2 percent to $1.1731, the weakest in almost two weeks.
The Bloomberg Dollar Spot Index climbed less than 0.05 percent.
The British pound increased 0.1 percent to $1.3005, the first advance in a week.
South Africa's rand sank 0.7 percent to 13.4689 per dollar, the weakest in more than four weeks.
Bonds
The yield on 10-year Treasuries decreased two basis points to 2.24 percent.
Germany's 10-year yield declined four basis points to 0.44 percent, the lowest in six weeks.
Britain's 10-year yield fell four basis points to 1.117 percent, the lowest in six weeks.
France's 10-year yield dipped three basis points to 0.73 percent.
Commodities
Gold gained 0.6 percent to $1,267.99 an ounce, heading for the biggest one-day increase since July 28.
West Texas Intermediate crude climbed 0.4 percent to $49.36 a barrel.
Asia
Japan's Topix index fell 1.1 percent, the most since May 18. Australia's S&P/ASX 200 Index bucked the region-wide downward trend to add 0.4 percent. The Hang Seng Index in Hong Kong lost 0.4 percent and China's Shanghai Composite Index was down 0.2 percent.
The Japanese yen advanced 0.5 percent to 109.73 per dollar, the strongest in eight weeks.
By Adam Haigh and Samuel Potter – August 9, 2017, 6:55 PM GMT+10
— With assistance by Min Jeong Lee
Source: Bloomberg