Benchmark 10-year yields drop after last week's increase

U.S. retail-sales report, bank earnings are on tap this week
A technology rally drove U.S stocks to fresh records at the start of a busy week for corporate earnings, economic data and Federal Reserve speakers. Treasuries climbed.
Gains in tech outweighed losses in energy and financial companies in the S&P 500 Index. The Nasdaq-100 and the Dow Jones Industrial Average also closed at all-time highs. Citigroup Inc., the first giant U.S. bank to report results, was little changed. After last week's surge, Treasury 10-year yields dropped as investors bought bonds at cheaper prices. Oil fell below $60 a barrel.
Traders will sift through speeches by Fed officials after Chairman Jerome Powell left it all but certain that the central bank will reduce rates for the first time in a decade. As the July 30-31 meeting nears, the debate now is how deep they will cut and what will they do afterward. Key data points such as U.S. retail sales may provide more clarity as the earnings season gets under way.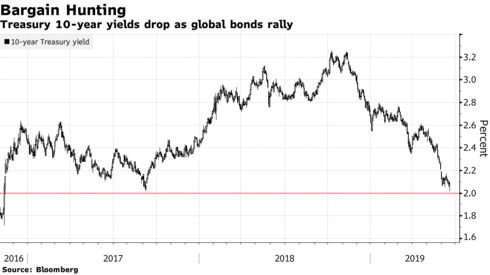 "It's very, very well advertised that earnings are expected to come out weaker," said Jim Caron, managing director of global fixed-income at Morgan Stanley Investment Management. "If we connect this with the Fed and say, 'OK, if the Fed is doing these insurance cuts to really stave off any real significant slowdown, then hey, you know what, then maybe earnings in the fourth quarter might be pretty good."'
Profits are expected to drop from last year, making this season "the worst of times," according to Bloomberg Intelligence analyst Gina Martin Adams. Eight of 11 sectors are forecast to post declines in per-share earnings growth, with analysts and companies cutting second-quarter views "to the bone," she said.
Investors also assessed data showing that China's economyslowed to the weakest pace since quarterly data began in 1992 amid the ongoing trade standoff with the U.S., while monthly indicators provided signs that a stabilization is emerging.
Elsewhere, Bitcoin trimmed losses, following another weekend sell-off that saw some digital tokens plunge by more than 20%. Treasury Secretary Steven Mnuchin said Monday that the Trump administration has "very serious concerns" about Facebook Inc.'s proposed cryptocurrency Libra.
Here are some key events coming up:
JPMorgan Chase & Co., Bank of America Corp., Goldman Sachs Group Inc. and Taiwan Semiconductor are among companies due to report results this week.
U.S. June retail sales, due Tuesday, are expected to rise from the prior month.
Monetary policy decisions are due in Indonesia, South Korea and South Africa on Thursday.
These are the main moves in markets:
Stocks
The S&P 500 rose less than 0.1% to 3,014.30 at 4 p.m. in New York; the Dow Average gained 0.1% and the Nasdaq-100 added 0.3%.
The Stoxx Europe 600 Index advanced 0.2%.
The MSCI Asia Pacific Index climbed 0.3%.
Currencies
The Bloomberg Dollar Spot Index increased 0.1%.
The euro fell 0.1% to $1.1257.
The Japanese yen was unchanged at 107.91 per dollar.
Bonds
The yield on 10-year Treasuries declined four basis points to 2.09%.
Germany's 10-year yield decreased four basis points to -0.25%.
Britain's 10-year yield fell three basis points to 0.801%.
Commodities
The Bloomberg Commodity Index slipped 0.6%.
West Texas Intermediate crude dipped 1.1% to $59.58 a barrel.
By Rita Nazareth and Vildana Hajric
— With assistance by Adam Haigh, Joanna Ossinger, Samuel Potter, Todd White, Laura Curtis, and Sarah Ponczek
16 July 2019, 06:26 GMT+10
Source: Bloomberg
(An earlier version corrected the name of Europe's benchmark equity index.)