Pound finds support as U.K. PM seeks to prop up government

Treasury yields edge higher as Fed meeting nears; gold slips
Technology companies led a bounce in European stocks as a global selloff that started in the sector last week showed signs of abating. The pound managed to advance as Theresa May survived a showdown with rank-and-file lawmakers and sought to prop up her minority government.
Almost every industry group in the Stoxx Europe 100 Index traded in the green, with technology shares poised for the largest gain in three weeks. Sterling headed for the first increase since the U.K. election that's left Prime Minister Maybattling to shore up her position. She'll meet Northern Ireland's Democratic Unionists today, seeking the votes she needs to be able to pass any legislation. Treasuries were fractionally higher as this week's Federal Reserve policy decision looms into view.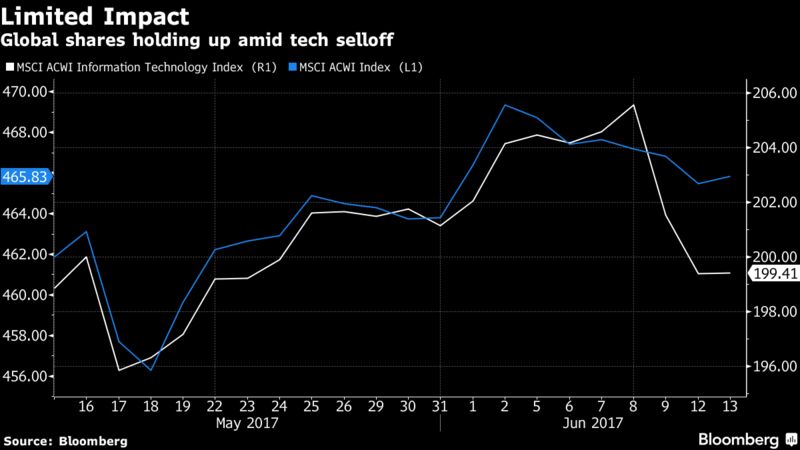 Should the rebound in tech shares carry through into U.S. trading investors will likely breath a sigh of relief; the sector has been a key driver of global equity gains and a prolonged selloff would have represented a major threat to the ongoing bull market.
Samsung Electronics Co. was little changed after leading declines in Asia during Monday's rout. Tencent Holdings Ltd., which tumbled 2.5 percent in the previous session, and Taiwan Semiconductor Manufacturing Co., which dropped the most since December, both advanced. In Europe, ASML Holding NV rose 1 percent after sliding 3.9 percent in the previous session.
Read our Markets Live blog here.
Here are the key events investors will be watching this week:
They may get more drama from Washington Tuesday, as Attorney General Jeff Sessions will testify publicly before the Senate Intelligence Committee. He will likely face pressure to explain his role in the firing of James Comey and contacts that he and associates of President Donald Trump had with Russian officials.
Fed policy makers are forecast to raise their benchmark interest rate for the second time this year on Wednesday. Since that's widely expected, the more market-sensitive elements of the meeting will relate to signals on future policy — either the path for rates or plans to cut the $4.5 trillion balance sheet.
Central banks in Japan, Switzerland and Britain are also scheduled to weigh in with policy decisions this week.
Here are the main moves in markets:
Asia
Australian equities rallied 1.7 percent, the most since November, as bank stocks jumped after investors returned from a holiday.
South Korea's Kospi added 0.7 percent, with Samsung Electronics Co. little changed after leading declines in Asia during Monday's rout. Hong Kong's Hang Seng rose 0.6 percent as Tencent Holdings Ltd., which tumbled 2.5 percent in the previous session, rebounded 0.7 percent.
Stocks
The Stoxx Europe 600 Index climbed 0.6 percent as of 9:49 a.m. in London, after dropping 1 percent on Monday. Tech shares rose 1.3 percent.
Futures on the S&P 500 Index rose 0.2 percent. The Nasdaq 100 fell 0.6 percent on Monday, adding to its 2.4 percent rout on Friday. Apple fell 2.4 percent while Microsoft Corp. slid 0.8 percent.
Currencies
The pound strengthened 0.3 percent to $1.2698, after sliding 0.7 percent on Monday.
The euro fluctuated before gaining 0.1 percent to $1.1212.
The Bloomberg Dollar Spot Index fell by 0.1 percent.
The yen fell 0.2 percent to 110.17 per dollar, after Monday's 0.3 percent gain.
Bonds
The yield on 10-year Treasuries edged higher by less than one basis point to 2.22 percent; before today it climbed for four straight sessions.
German and French benchmark yields rose two basis points each as U.K. yields added three basis points.
Commodities
West Texas crude futures rose 0.5 percent to $46.31, gaining for a third day before U.S. government data forecast to show crude stockpiles resuming declines.
Gold slipped 0.3 percent to $1,262.68, its fifth day declining and the longest losing streak in a month as investors anticipate a Fed rate hike.
Before it's here, it's on the Bloomberg Terminal.
by Garfield Clinton Reynolds, Livia Yap, and Samuel Potter