Fed is about to embark on rate-cut cycle, JPMorgan Asset says

Yields in Australia and New Zealand drop to new record lows
The U.S. 10-year yield slid as much as five basis points to 1.9719% during Asian trading after the Federal Reserve signaled it was ready to cut interest rates. Japan's 10-year yield dropped to within four basis points of the bottom of the central bank's targeted range, while similar benchmarks in Australia and New Zealand slipped to new record lows.
The Fed on Wednesday scrapped its use of "patient" in describing its approach to policy changes, about three months after bond markets began clamoring for lower borrowing costs. The dovish tilt came after European Central Bank President Mario Draghi signaled he's ready to add monetary stimulus to bolster a slowing economy.
"You've got a Fed that's now changed its language and we're on a path where there's going to be rate cuts ahead — whether it's two or three times, it's hard to say — but there will be cuts," said Shyam Devani, senior technical strategist at Citigroup Inc. in Singapore.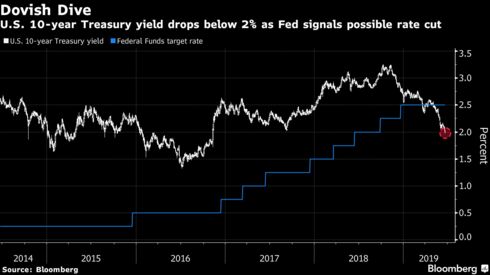 The Treasury 10-year yield has fallen more than 70 basis points this year as the U.S.-China trade war took its toll on the global economy and spurred investors to bet the Fed will have to ease policy. Calls for a rate cut are growing with Pacific Investment Management Co. forecasting a 50-basis-point reduction in July.
Read What Analysts Are Recommending on Treasuries
"As yields head lower, investors could be tempted to lower their allocation to fixed income — but we'd caution them against that," Rachel O'Connor, portfolio manager at Vanguard Group Inc. said at a Bloomberg investment forum in Sydney Thursday. "Given the high level of uncertainties in markets at the moment, we'd be encouraging investors to think long term."
With the Fed and ECB mulling easing, that's raising expectations of other central banks also adding to stimulus. Bonds in Australia joined the rally, with 10-year yields falling as much as seven basis points to a record 1.271%. Similar-tenor New Zealand yields slid to an all-time-low 1.51%.
"It is not unrealistic to expect a further reduction in the cash rate," Australia's central bank chief Philip Lowe said in a speech Thursday, after policy makers lowered their benchmark for the first time in three years this month.
While Bank of Japan kept its policy stance unchanged Thursday, traders are waiting on Governor Haruhiko Kuroda's briefing later in the day to see if he signals further easing.
Cutting Cycle
U.S. President Donald Trump and Chinese leader Xi Jinping plan to meet next week at the Group-of-20 gathering, leading some investors to bet the two nations will eventually reach a trade deal.
"There are still people out there who are seeing Treasury yields as being too low given the possibility of the U.S. resuming trade talks with China," said Naoichi Kanaoka, a senior strategist at Mizuho Securities Co. in Tokyo. "However, if the Fed reduces rates because of low inflation, then it would be full-swing policy easing rather than a preemptive cut."
The Fed on Wednesday lowered its inflation forecasts. Futures are now signaling four rate cuts before the end of next year, with one at the July 30-31 meeting fully priced in.
The prospect of lower rates has prompted some investors to move further out along the yield curve, with 30-year yields falling as much as six basis points to 2.48% on Thursday, the lowest since October 2016.
"This will be the start of a rate-cutting cycle, not a one- or two-off cut in isolation," Bob Michele, head of global fixed income at JPMorgan Asset Management in New York, wrote in a research note.
By Ruth Carson and Masaki Kondo
— With assistance by Stephen Spratt
20 June 2019, 16:23 GMT+10
Source: Bloomberg